---


Leonova and Khvalko
Copyright 1998 by Tracy Marks. Please do not reproduce without permission.
Photos taken at Evening of Champions October 1998 and Improv-Ice.

Yelena Leonova and Andrei Khvalko were teamed together as pros by coach
and choreographer. Tatyana Tarasova, and married soon afterwards. They
are currently competing in international championships and exhibitions.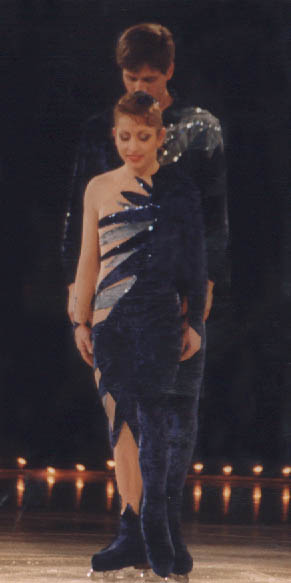 Go to L&K page two
Pairs Skating Index Icedance Index Skating Photos Index


More Web sites and photo pages by Tracy Marks:
Index to: figure skating photos: http://www.webwinds.com/skating/skating.htm
Do sign my guestbook at Webwinds or Windweaver!
---

copyright 1998 by Tracy Marks, Internet and Photoshop trainer and web designer
Windweaver Arlington, MA. USA (781) 641-3371 Email: tmar@tiac.net







Since April 3, 1997, you are visitor

Last update December 27, 2000